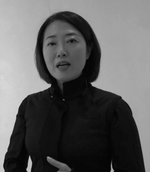 Joohyun Kang
Statement
I believe the beauty in art lies in its ability to address the perpetual dualism within the cycle life. Issues from human society inspire the ideas behind my work through observing the animal kingdom.
II choose to portray my ideas through paintings because the process allows me to visualize the fundamental truths that embody both beauty and catastrophe.
IAccepting dualisms is a necessary step to provide the potential for renewal.
Bio
Joo Hyun Kang was born in Seoul, Korea. She received her MFA from Pratt Institute in United State in1998. Her work has been exhibited at Korea Culture Center, Tenri art and culture center, John Jay University, The work space, Artist space, Exit Art in New York, Milan in Italy and Korea. Her work has been reviewed in Asian Art, NY Art, Art in Culture, The Korean Center news paper and many Symposium on Korean Contemporary Art. She is accepted Vermont Residency Program. Her works are metaphors for the rhythms and dualities that underlie existences. Her work interprets contemporary society's utopian aspiration visualizing the fundamental truth that natural phenomena embody both beauty and catastrophe.
2017 Treasure Hunt